Bricks Price in Pakistan 2023, today bricks prices are available on this page. Price of single brick in Pakistan is PKR 12 to 15. Bricks are sold with 500 quantity in bullock cart and 1000 to 3000 bricks in tractor trolley. Rate of bricks trolley and single eent are given below.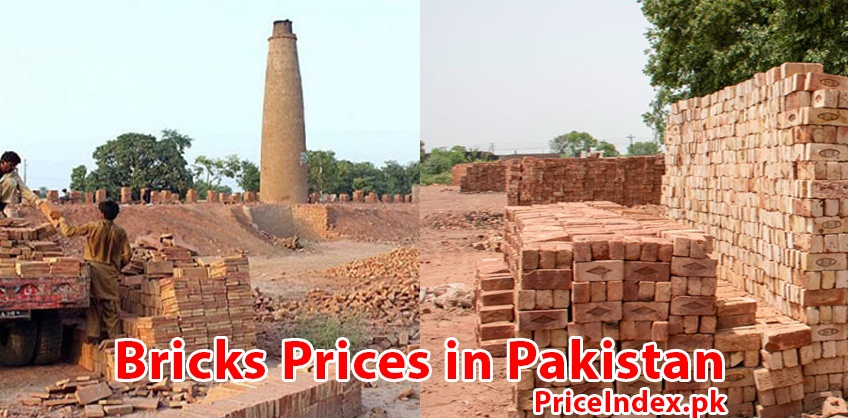 Today Bricks Price in Pakistan Today 5th June 2023
| | | | |
| --- | --- | --- | --- |
| Bricks Quantity | A Garde – Awwal | B Garde – Doem | C Garde – Khangar |
| Single Brick | Rs. 15 | Rs. 12.5 | Rs. 13 |
| 1000 Bricks | Rs. 15,000 | Rs. 12,500 | Rs. 13,000 |
| 3000 Bricks Trolley | Rs. 45,500 | Rs. 37,500 | Rs. 39,000 |
Check Also:
Bricks price vary city to city in Pakistan as per availability, cost of raw material and labour charges. Rates are lower in South Punjab cities like Multan, DG Khan, Bahawalpur, Rahim Yar Khan, Lodhran etc. Prices in other provinces of Pakistan, Sindh, KPK and Balochistan are different. Lahore, Islamabad, Rawalpindi, Gujranwala, Faisalabad, Sahiwal, Khanewal, Peshawar, Quetta.
Brick Types and Grading in Pakistan:
Price of bricks also vary with respect to its size type and grade quality. Grading of bricks is done on following criteria
A Grade – Awwal Eent
B Garde – Doem Eent
Rough Surfcae C Grade – Khangri Eent
Type of bricks are
Tassu (It is thin in height but same in length and width of common brick)
Brick Tile (Thin and large in length and width too)
Size of Red Brick in Pakistan:
Actual size of bricks being produced in Pakistan is standard everywhere, which is
| | | |
| --- | --- | --- |
| Length | Width | Height |
| 9 inches | 4 inches | 3 inches |
Length x Width x Height = 9 x 4 x 3 Inches
Number of Bricks Calculation:
According to this size you can calculate how much bricks are required for building a wall, room or home. Keeping in mind the brick size make sure you have the right dimensions of the structure. After calculating the number of bricks you can easily estimate the total cost of bricks for making any construction.
Manufacturing Procedure of Bricks in Pakistan
Fire red bricks are manufactured in brick kilns. Manually made kilns coated with clay are brick factories. Raw material or ingredients required to make a brick are Thick clay, water, mold and fire place (Bhatta). Raw bricks are placed in racks of Bhatta in which coal and other firing material is used to give them high temperature heat.
Brick Kilns Owners' Association Pakistan (BKOA) decides the SOPs and prices of labor. They also consult with all member to implement brick rates in the country.