Now it is more difficult to build your own house. The cement price in Pakistan is increasing day by day because of which construction work has stopped in many areas of Pakistan. Contractors and builders are waiting for any price decrease but cement prices are not getting down.
 تمام کمپنیوں کے سیمنٹ کے تازہ ریٹس نیچے دییےگئے ہیں۔
Overview of Cement Price in Pakistan:
Cement is an essential building material that is used in the construction of various structures, including residential, commercial, and industrial buildings. In Pakistan, cement is one of the most widely used construction materials, and the demand for it continues to rise. One of the factors that affect the construction industry is the price of cement. In this blog post, we will discuss the current cement price in Pakistan and the factors that influence them.
Ordinary Portland cement is the essential component of building a structure. Before you buy see the cement price of all companies in Pakistan 2023. Without cement, you can't make concrete. There are over dozen companies manufacturing cement in Pakistan. With growth in development of housing colonies and commercial markets, cement industry is rising in the country. Hence increasing per-year production and sales as well. Cement prices have increased after federal Budget 2021-2022.
As of May-2023, the average price of a 50kg bag of cement in Pakistan is around PKR 1,000. However, this price can vary depending on several factors, including the region, brand, and demand. For instance, in Karachi, the price of cement can be lower than in other parts of the country due to the presence of several cement manufacturing plants in the city.
Factor affecting the Price of Cement in Pakistan
One of the main factors that influence the price of cement in Pakistan is the cost of production. The production cost of cement includes the cost of raw materials, labor, and transportation. The price of raw materials such as limestone, clay, and gypsum can fluctuate, and this can affect the production cost of cement. Additionally, the cost of labor and transportation can also have an impact on the final price of cement.
Another factor that affects cement prices in Pakistan is demand and supply. When the demand for cement is high, the prices tend to increase, and when the supply is low, the prices can also rise. The demand for cement in Pakistan has been increasing due to the rise in construction activities in the country. The construction of new housing societies, commercial buildings, and infrastructure projects has led to an increase in the demand for cement.
Moreover, government policies and taxes can also affect the price of cement in Pakistan. The government can impose taxes on the cement industry, which can increase the production cost of cement, leading to an increase in the final price.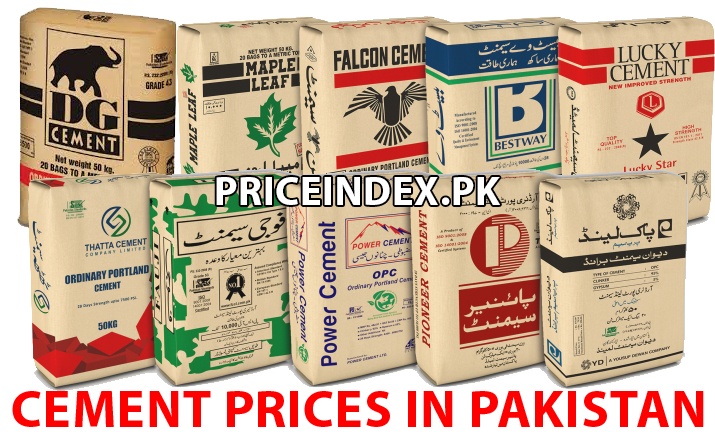 Cement Price in Pakistan 2023 Today Updated 5th June 2023
| Cement Company | Price per 50KG Bag |
| --- | --- |
| | |
| --- | --- |
| DG Cement | Rs. 1105-1,115 |
| Lucky Cement | Rs. 1,100-1,110 |
| Maple Leaf Cement | Rs. 1,100-1,110 |
| Maple Leaf White Cement (40KG) | Rs. 1,850-1,900 |
| Bestway Cement | Rs. 1,100-1,110 |
| Fauji Cement | Rs. 1,095-1,105 |
| Kohat Cement | Rs. 1,095-1,100 |
| Attock Cement | Rs. 1,095-1,100 |
| PakCem | Rs. 1,095-1,105 |
| Askari Cement | Rs. 1,095-1,105 |
| Pioneer | Rs. 1,095-1,105 |
| Flying Cement | Rs. 1,090-1,100 |
| Power Cement | Rs. 1,100-1,110 |
| Cherat Cement | Rs. 1,095-1,100 |
Check Also:
Disclaimer Note: All Cement Companies Prices are taken from the market these may differ from the invoice price or company rates. We do not sell cement we just provide cement prices information for users. So buy from the market on your own. If you are from a respective company or you want us to change and update these prices please inform us through the contact us page.
Check Also: Electricity Per Unit Price in Pakistan
Know Cement Price Before you Buy
Cement plants are located almost in every province of Pakistan i.e Punjab, Sindh, KPK and Balochistan. Operation and installed capacity of Maple leaf is at the top. Cement price of Maple leaf is a little higher than other brands due to its quality. Cement is also exported to other countries.
In conclusion, the price of cement in Pakistan is influenced by several factors, including the cost of production, demand and supply, government policies, and taxes. The current average price of cement in Pakistan is PKR 1,000 per 50kg bag. It is important for builders, contractors, and consumers to stay informed about the current cement prices to make informed decisions while planning their construction projects.
You can visit All Pakistan Cement Manufacturer Association (APCMA) website for sales and export data. Manufacturing members of association are responsible for making policies and distribution procedures in the country. Industry is responsible for providing production & sales and statistical data to the Government.
List of Cement Companies in Pakistan
ASKARI CEMENT LTD.
ATTOCK CEMENT (PAKISTAN) LIMITED
BESTWAY CEMENT LIMITED
CHERAT CEMENT COMPANY LIMITED
DANDOT CEMENT COMPANY LIMITED
DEWAN CEMENT LIMITED
FAUJI CEMENT COMPANY LIMITED
FECTO CEMENT LIMITED
FLYING CEMENT COMPANY LIMITED
GHARIBWAL CEMENT LIMITED
JAVEDAN CORPORATION LIMITED
JAVEDAN CORPORATION LIMITED (PREF SHARES)
KOHAT CEMENT LIMITED
LUCKY CEMENT LIMITED
MAPLE LEAF CEMENT FACTORY LIMITED
PAKCEM LIMITED
PIONEER CEMENT LIMITED
POWER CEMENT LIMITED
SAFE MIX CONCRETE LIMITED
THATTA CEMENT COMPANY LIMITED
ZEAL PAK CEMENT FACTORY LIMITED