Fertilizer Prices in Pakistan Today 2023 – DAP, Urea, NPK, SSP, SOP, MOP
Khad rate in Pakistan November 2023
Fertilizers provide important nutrients to crops for their healthier growth. The latest Fertilizer prices of all companies in Pakistan are available on this page. Fertilizers contribute in the increased yield of crops. Nutrients and minerals existing in in these fertilizers play a major role in the development of crops. Price of fertilizers in Wafaqi / Federal Budget 2023-24 is updated below.
Major crops of Pakistan are Wheat, Cotton, Rice, Sugarcane, and vegetables. Especially wheat crop requires these fertilizers in rich amount than other crops. These escalate the fertility of soil hence increasing yield and profit at the end. Crop inputs fertilizers are available in the market in packing of 50 KG bag. Without the utilization of the crop supplements development of plant and crop yield will decrease significantly.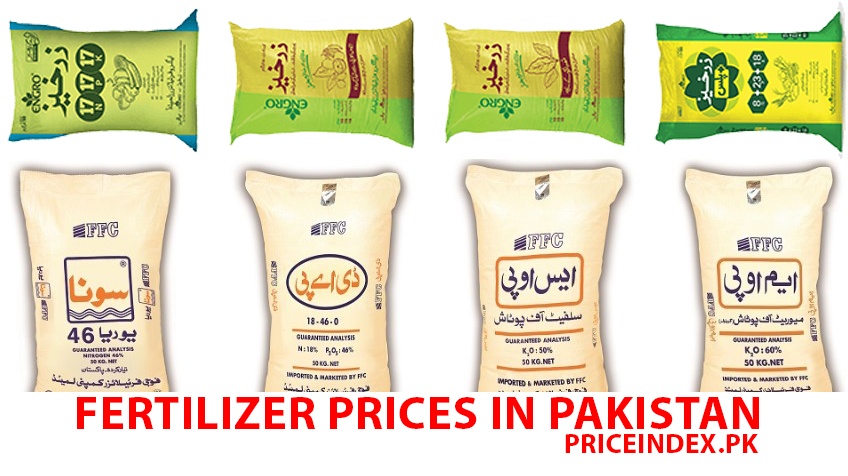 Fertilizer Prices in Pakistan Today 29th November 2023
آج کھادوں کے ریٹ
| | |
| --- | --- |
| Fertilizer/Khad Type | Today Price per 50 KG Bag |
| Urea – Sarsabz or Sona | Rs. 2,440 – 3,545 |
| SSP | 2,000 to 2,895 |
| SOP Granular | Rs. 11,600 |
| SOP granular- FFC | Rs. 15,500 – 16,590 |
| MOP – FFC | Rs. 11,900 – 12,100 |
| Sarsabz NP | Rs. 9,370 |
| NPK | Rs. 8,000 – 8,100 |
| DAP (Sona, Pakarab or FFC) | Rs. 11,560 – 14,000 |
| DAP – Sarsabz | Rs. 11,450 |
| Sarsabz CAN-G | Rs. 2,120 |
| Sarsabz CAN-F | Rs. 2,099 |
| Sona Boran (3 KG pack) | Rs. 950 |
| Sona Zinc Granular (3 KG pack) | Rs. 2,250 |
| Efert. Agritrade Zorawar | Rs. 12,175 |
Khad Rate List by FFC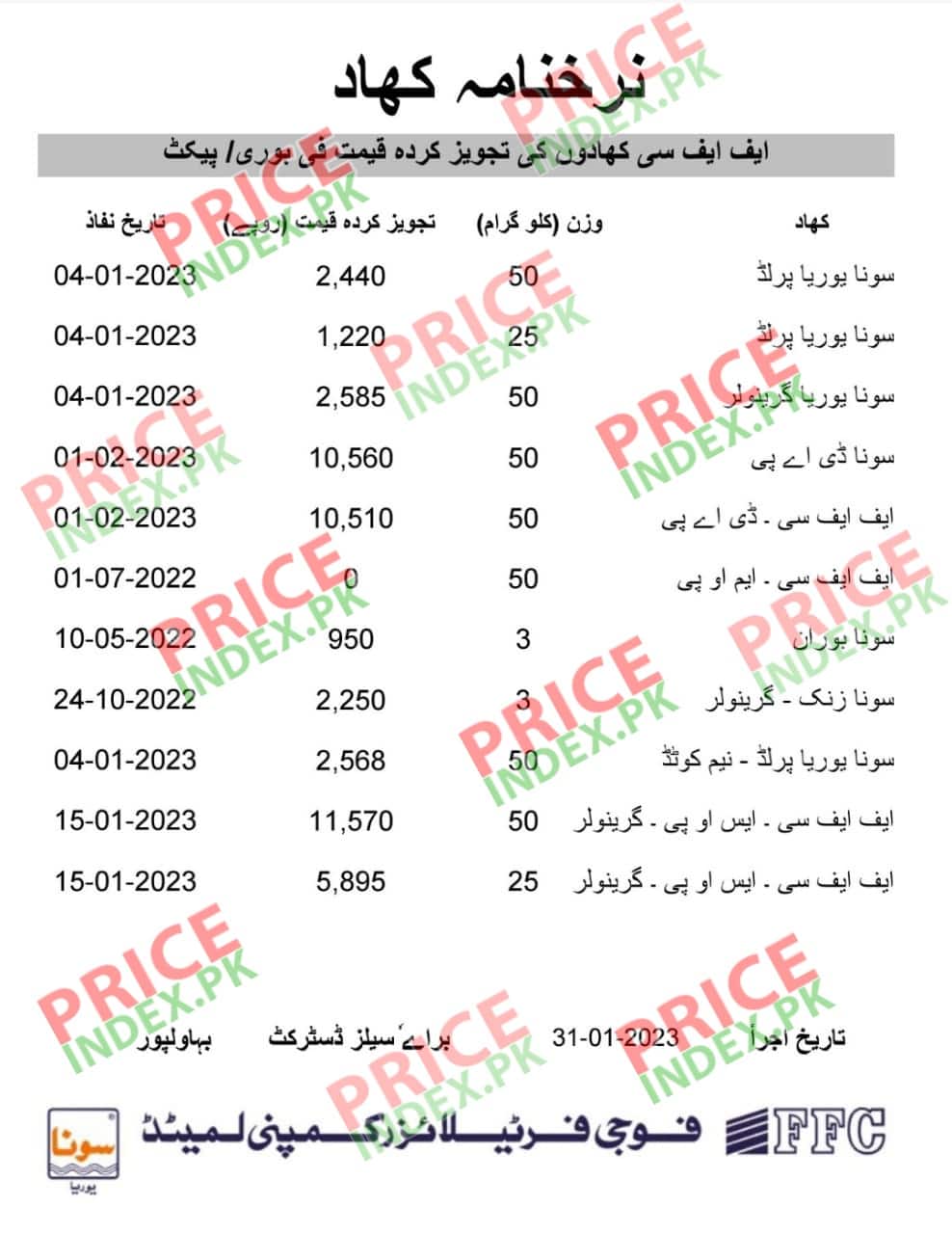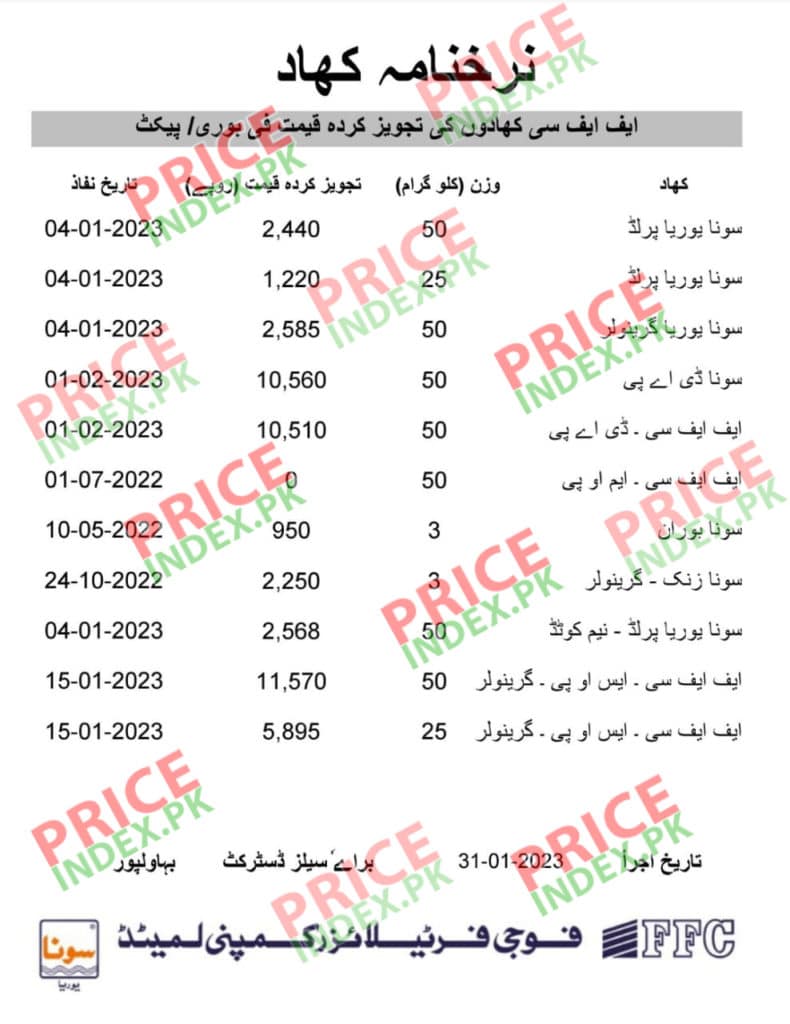 Disclaimer Note: We try our best to update the prices on a daily basis. All prices are taken from the market these may differ from the invoice price or company rates. We do not sell Fertilizers we just provide prices information for users. So buy from the market on your own. If you are from a respective company or you want us to change and update these prices please inform us through the contact us page.
Crop Fertilizers Brand in Pakistan:
Major companies of fertilizer production in Pakistan are
Fatima Fertilizers (including Pak Arab Fertilizer Ltd.) Khad Factory
Sarsabz Calcium Ammonium Nitrate (CAN), Sarsabz Urea, Sarsabz Nitrophos (NP)
Engro Urea, Engro DAP, Engro NP, Engro Zarkhez, Engro MOP, Engro SOP, Engro SSP,
Sona Urea, Sona DAP & FFC DAP, FFC SOP, FFC MOP
Major Crop Fertilizers:
Major fertilizer utilized for increasing the crop productivity and making the soil more fertile by flooding in the field are;
NP (Nitrophos Nitrogen and Phosphorus)
Urea
SSP (Single Super Phosphate)
SOP (Sulphate of Potash)
MOP (Potassium chloride)
NPK (Nitrogen, Phosphorus, Potassium)
DAP (Di Ammonium Phosphate)
Basically fertilizer rates are decided by the Pakistani Government. Prices of all fertilizer brands are almost same but it can vary with little amount.
There is not a significant difference in Fertilizer prices in Punjab, Sindh, KPK and Balochistan provinces.