In Pakistan 3 to 4 sutar / soot (10-12 mm) saria iron bar is an essential component for buildings construction. Sariya is the common term of steel iron bars in Pakistan. Saria rate per kg 2023 keeps changing on daily basis. It is generally sold per kg or rate per metric ton and rate as of 1 steel iron rod. Price of steel is increasing day by day in Pakistan because of the devaluation of Pakistani Rupee against US Dollar and petroleum prices.
 سریے کے ریٹس میں ریکارڈ اضافہ۔ تمام کمپنیوں کے سریے کی قیمتیں نیچے دی گئی ہیں۔
Steel iron comes in different grades specially 40 and 60 grade. Most commonly used grade is 60 for lenter slab of house building. You can check saria rate with respect to grade and size in sutar / mm.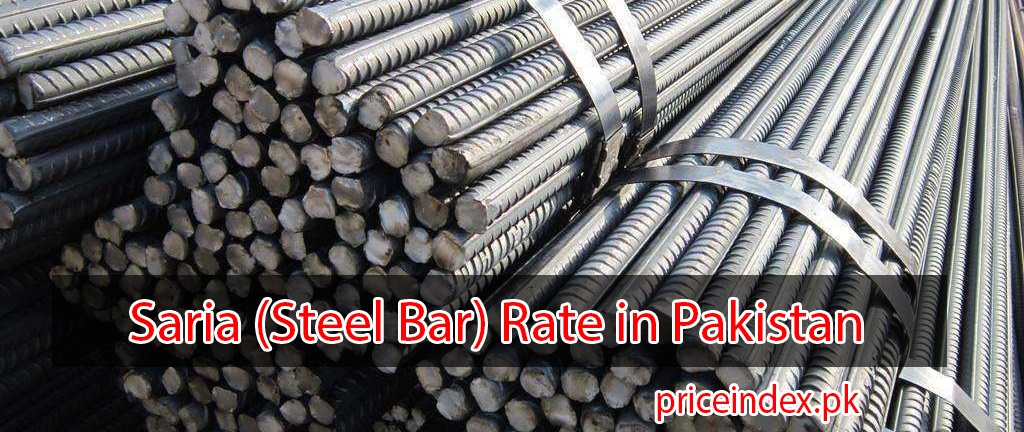 Saria rate / سریا Steel rate per KG in Pakistan Today January 27, 2023 (Popular Brands of Steel)
Saria Size in Sutar or mm
Grade 40 Rate
Grade 60 Rate
3 sutar –  10mm
Rs. 272 / Kg
Rs. 274 / Kg
Rs. 272,000 per metric ton
Rs. 274,000 per metric ton
4 sutar –  12mm
Rs. 270 / Kg
Rs. 272 / Kg
Rs. 270,000 per metric ton
Rs. 272,000 per metric ton
5 sutar –  16mm
6 sutar –  20mm
Rs. 270/ Kg
Rs. 270,000 per metric ton
Rs. 273 / Kg
Rs. 273,000 per metric ton
7 sutar –  22mm
8 sutar –  25mm
Rs. 270 / Kg
Rs. 270,000 per metric ton
Rs. 273 / Kg
Rs. 273,000 per metric ton
Disclaimer Note: These are the prices of major steel brands in Pakistan. Price of local saria in Lahore and Karachi are always lower than these brands. All Prices are taken from market these June differ from the invoice price or company rates. We do not sell Steel we just provide prices information for users. So buy from market at your own. If you are from respective company or you want us to change and update these prices please inform us through contact us page.
Iron bar per metric ton rate can be calculated by multiplying per kg rate with 1,000.
Check: Copper Rate in Pakistan per KG Today
Rates October vary city to city and province wise Punjab, Sindh, KPK and Balochistan. We have informed rates of major steel brands in the cities of Lahore, Karachi, Faisalabad, Gujranwala, Multan, Quetta, Peshawar, Islamabad, Bahawalpur.
Karachi and Lahore are the major cities of Sindh and Punjab province respectively. Where steel rate is considered the final in overall country. As main steel mills are manufacturing iron in these cities. Rate of iron rod in KPK and Balochistan can be 1% up and down if we compare with above rates.
Check Also: Marble Price List and Types in Pakistan
Major steel companies in Pakistan are;
Ittehad Steel
Mughal Steel
Amreli Steel
Ittefaq Steel
Kamran Steel
AF Steel
FF Steel
Al Haj Asia Star Steel
Check Also: Electricity Per Unit Price in Pakistan