Electricity is costly in Pakistan, in this scenario you should know how much it costs and what is the per unit electricity rate in Pakistan 2023. Electricity which is commonly called Bijli in national language of Pakistan. It is supplied through divisional electric supply companies all over the country in Punjab, Sindh, Balochistan and KPK provinces. There is little difference in prices per unit.
یونٹس کے حساب سے بجلی کے ریٹس نیچے دیے گئے ہیں۔
NEPRA, The National Electric Power Regulatory Authority is controlling and regulating the electricity supply in Pakistan. NEPRA decides and provides suggestions to increase or decrease the rate of electricity to government of Pakistan.
Though in bill calculation section you can easily see per unit rate of electricity we are providing information about prices of all electric supply companies in Pakistan. Electric supply companies are working under the WAPDA, Pakistan Water & Power Development Authority. WAPDA is maintaining power and water resources in Pakistan.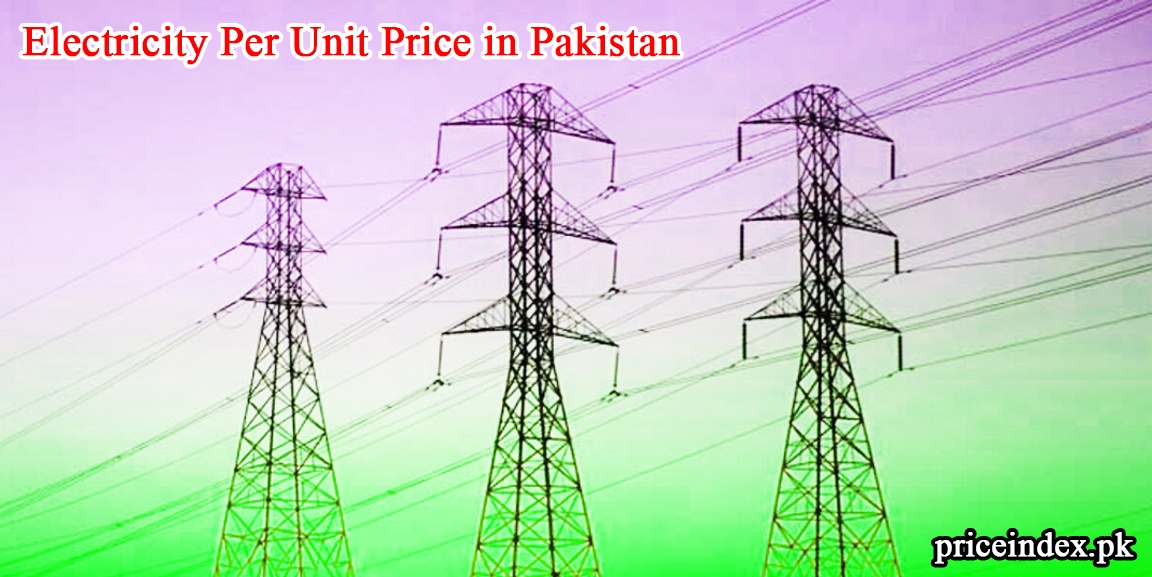 Electricity per Unit Price in Pakistan October 2022 – Bijli Rate
مہنگائی کے ستائے عوام کو ایک اور بجلی کا جھٹکا دے دیا گیا، بجلی کی فی یونٹ قیمت میں مزید۱۰روپے کا اضافہ کردیا گیا، جس کی نیپرا نے منظوری دے دی جبکہ فیول ایڈجسٹمنٹ کی مد میں اضافے کا اطلاق اگست کے بلوں پرہوگا ۔
Electricity prices range from Rs. 2 to Rs. 25 per unit in domestic connections. However rates are higher in Commercial, industrial, agricultural category connections. Electricity rate was recently revised in  October, 2022.
Domestic Connection per unit rate
Prices differ with respect to number of units consumed. There are unit slabs against which cost is different.
| | |
| --- | --- |
| Number of Units | Rate per 1 Unit (kWh) |
| 1-50 | Rs. 2 |
| 1-100 | Rs. 7.36 |
| 101-200 | Rs. 9.68 |
| 201-300 | Rs. 12.15 |
| 301-700 | Rs. 20.82 |
| Above 700 | Rs. 23.92 |
Commercial Connection per unit rate
| | |
| --- | --- |
| Load Type | Rate per Unit (kWh) |
| Less than 5kW load | Rs. 20.66 |
| More than 5kW load | Rs. 24.14 |
Today: January 27, 2023
Note: FC Surcharge @ Rs. 0.43/kWh and NJ Surcharge @ 0.10/kWh are applicable in addition to above on all consumer categories except life line.
Nepra Electricity Price News January 2023:
The National Power Regulatory Authority (NEPRA) has approved an increase of Rs 9.90 per unit in the monthly FPA fuel charges adjustment for June.
Nepra has also issued a notification according to which the CPPA (Central Power Purchasing Agency Guarantee Limited) had requested an increase in electricity rates by Rs 9.91 per unit for June 2022, the authority on July 28th. A public hearing was held on FCA in 2022.
According to Nepra, earlier May FCA customers were charged Rs 7.91 which was only for one month, June FCA will be charged Rs 1.99 more in October compared to May FCA. .
According to the notification, it will be applicable only on bills for the month of October, it will be applicable to all customers of Discos, but it will not be applicable to Lifeline customers and K Electric customers.
K-Electric Electricity Price News January 2023:
It is a bad news for the people of Karachi that K Electric has requested Nepra for approval of increasing the price of electricity by Rs. 11.37 per unit.
K Electric's application to the National Electric Power Regulatory Authority (NEPRA) has demanded an increase in the price of electricity in view of the June fuel adjustment.
In the request given by K Electric to Nepra, it has been requested that electricity should be increased by Rs. 11.39 per unit.
Structure of Electricity prices in Pakistan:
Structure of electricity cost is consisted of following parameters.
Electric Supply Company Charges

Cost of Units Consumed as per unit rate
Meter rent (not applicable to everyone)
Service rent (not applicable to everyone)
Fuel Price Adjustment
C Surcharge
R Surcharge
QTR Tarrif ADJ/DMC

Government Charges

Electricity Duty
TV Fee
General Sales Tax (GST)
Electricity Bill Calculation in Pakistan:
If your connection is domestic you can easily calculate your monthly bill if you know the number of consumed electricity units. Below I have given an example of bill calculation MEPCO company.
Example bill calculation – MEPCO:
Number of electricity units: 433
Electric Company Charges:
Cost of Electricity = 300×11 = 3645 +  55 = 2600.15 , Total Cost = 6245.15
C Surcharge = @ 3% of cost = 186.19
QTR Tarrif = @ 11.1% of cost = 697.13
Total MEPCO Charges = Cost+ F.C Surcharge+ QTR Tarrif = 47
Government Charges:
Electricity Duty = 104.13
TV Fee = 35
GST Tax = 1230
Total Government Charges = 1369
Total Bill
Per unit price against Fuel price adjustment = Rs 9.89 for June 2022 (=433*9.89 = 4,282)
Electric Company Charges + Government Charges + Fuel Price Adjustment = Rs. 12,780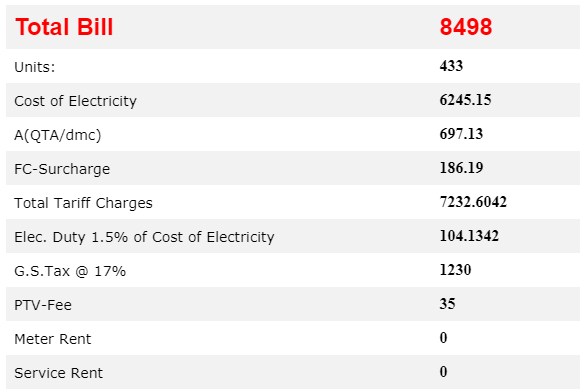 These rates are applicable to all below electric companies in Pakistan.
You can also download or check your duplicate electricity bill online from respective company website.
Check Also: LPG Gas Rate per KG
Check how much it costs for covid-19 test in Pakistan