Bijli / Electricity Per unit Price Live Updates Today June 2023
Electricity Per Unit Price in Pakistan Today is Rs. 2.10 to Rs. 24 depending on the number of units slab. Cost is increasing in Pakistan, in this scenario you should know how much it costs and what is the per unit electricity rate in Pakistan 2023. Electricity which is commonly called Bijli in national language of Pakistan. It is supplied through divisional electric supply companies all over the country in Punjab, Sindh, Balochistan and KPK provinces. There is little difference in prices per unit.
یونٹس کے حساب سے بجلی کے ریٹس نیچے دیے گئے ہیں۔
NEPRA, The National Electric Power Regulatory Authority is controlling and regulating the electricity supply in Pakistan. NEPRA decides and provides suggestions to increase or decrease the rate of electricity to the government of Pakistan.
Though in bill calculation section you can easily see per unit rate of electricity we are providing information about prices of all electric supply companies in Pakistan. Electric supply companies are working under the WAPDA, Pakistan Water & Power Development Authority. WAPDA is maintaining power and water resources in Pakistan.
فیول کی قیمتیں بڑھ جانے سے بجلی کی قیمتوں میں اضافے کا امکا ن بڑھ گیا۔
پٹرول، ڈیزل کی آج کی نئی قیتیں چیک کریں۔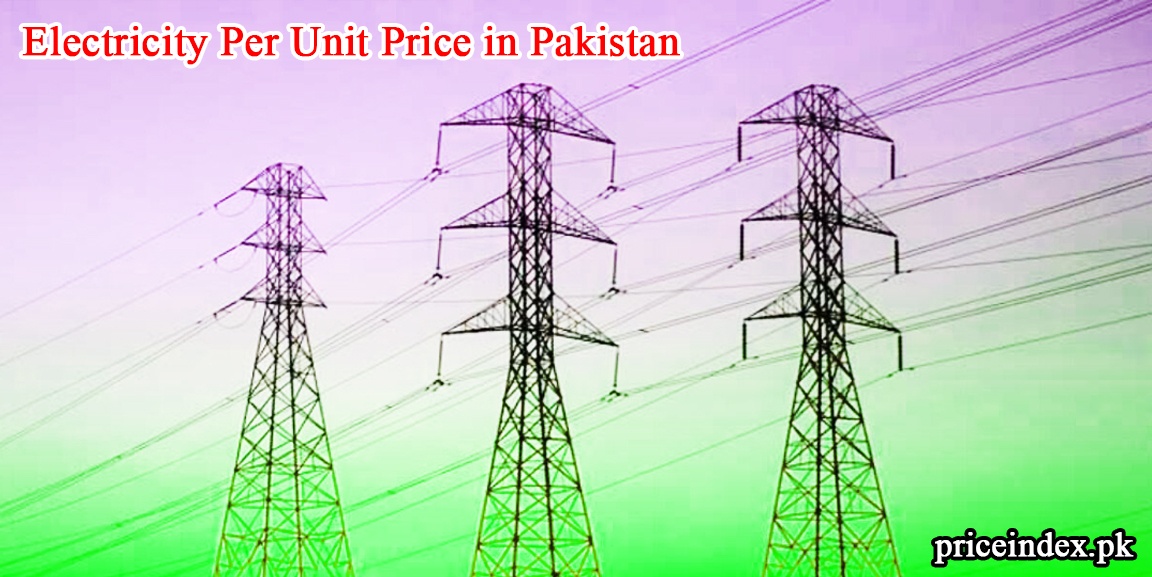 What is Electricity per Unit Price in Pakistan Today June 5, 2023 – Bijli Rate?
Looking for information about electricity per unit price in Pakistan? Find out the latest rates and updates on the cost of electricity in Pakistan, along with tips on how to save on your energy bills. Stay informed and make informed decisions about your electricity usage in Pakistan.
Electricity prices range from Rs. 3.9 to Rs. 25 per unit in domestic electricity connections. However, rates are higher in Commercial, industrial, and agricultural category connections. After an increase in general sales tax from 17% to 18% in Finance bill 2023 presented by Ishaq Dar price of energy has increased, and electricity shall be more expensive in the coming days. K-Electric has also filed a request in NEPRA to raise the price of electricity by PKR 4.49 per unit.
پٹرول اور ڈیزل کی آج نئی قیمتیں چیک کریں۔
Domestic Connection Electricity per unit price Today 5th June 2023
Prices differ with respect to number of units consumed. There are unit slabs against which cost is different.
Number of bijli Units
Rate per 1 Unit today (kWh) in PKR
Below 50
Rs. 4.35
1 to 100
Rs. 7.88
101 to 200
Rs. 10.46
201 to 300
Rs. 12.23
301 to  700
Rs. 21.54
Above 700
Rs. 24.93

Commercial Connection Bijli per unit price Today

Load Type
Rate per Unit (kWh)
Less than 5kW load
Rs. 21.80
More than 5kW load
Rs. 25.26
Note: FC Surcharge @ Rs. 0.43/kWh and NJ Surcharge @ 0.10/kWh are applicable in addition to above on all consumer categories except life line.
Have you ever looked forward to the start of a new month with apprehension—all because of the dreaded electricity bill that is coming your way? We feel you! In Pakistan, electricity prices are high and rising, which can make it difficult to manage household finances.
But don't worry—there are solutions if you're willing to look for them. In this blog post, I will share some practical ways to reduce your electricity bill and help you save money in the long-run. From installing solar energy systems to cutting off unnecessary appliances, I will give you all the information necessary to start making a difference in your expenses and more. So buckle up and let's get started!
Overview of Electricity Cost in Pakistan
If living in Pakistan has taught you anything, it's that electricity prices can be high. According to the Pakistan Economic Survey 2023, the average electricity tariff rate in the country is Rs. 14.67 per unit, which is significantly more than other countries in the region.
It can be challenging to keep up with the rising electricity prices, and reducing your bill can feel like an uphill battle. Fortunately, there are some practical steps that you can take to lower your electricity bill without sacrificing your comfort or convenience.
In this article, you'll learn how to reduce your energy usage and get ideas for making small changes that add up to big savings in the long run. With some simple strategies and a little bit of effort, you'll be able to make a noticeable dent in your electricity bill and start enjoying lower costs for the long term.
What Are the Effects of Rising Electricity per Unit Price?
When electricity prices rise, it affects everyone, whether you live in a large city or a rural area. For the lucky few with access to cheaper electricity, the cost of their electricity may still be affected.
For example, if the cost of generating power increases, then the price of all energy sources in Pakistan – including natural gas, oil and coal – will rise. This is because these energy sources are used to generate much of Pakistan's electricity.
Additionally, higher prices for electricity mean that households and businesses can't afford to use as much power as before. This doesn't just affect consumers directly; it affects businesses and farmers who use power for their operations too.
The real impact comes if these higher prices lead unscrupulous businesses or even governments to ration electricity usage or even shut off service due to rising costs. This could lead to a dramatic decrease in production and could harm societal progress if access to basic resources is hindered by increasing electricity prices.
It's clear that understanding electricity price in Pakistan is important for citizens, businesses and governments alike — but what can be done about it?
Tips to Cut Down on Electricity per unit cost / Consumption
The best way to lower your electricity bill in Pakistan is to reduce your consumption of electricity. Here are a few tips to help you cut back on your electricity consumption:
Unplug appliances when not in use. Many appliances, such as TVs, DVD players, and computers can still draw electricity even when they're not turned on. Make sure to unplug them when they're not in use for long periods of time.
Invest in energy-efficient appliances. Look for Energy Star certified products so you know that you're investing in more efficient technologies that can help lower your bills over time.
Change your lightbulbs. LED lightbulbs are much more energy-efficient and can help you save significantly on your electricity bill each month.
Educate yourself about how to reduce your electricity consumption at home. Talk to an electrician or do some research online about ways to conserve energy and make the most out of the available resources in Pakistan.
By following these simple tips, you can start reducing your electricity bills and save money each month!
Benefits of Solar Energy in Pakistan
Solar energy is a great way to reduce your electricity bill in Pakistan. It not only helps you save money, but also contributes to making the environment greener.
Lower Electricity Bills
The main benefit of using solar energy in Pakistan is that it significantly reduces your electricity bills. Solar energy is a renewable energy source, so you don't have to worry about running out of natural resources. In addition, it reduces your electricity bills since there are no additional costs associated with setting up and running solar panels. Moreover, the cost of solar cells has decreased significantly over the years due to improvements in technology, making it more cost-effective than ever before.
Reducing Carbon Footprint
Solar energy also helps reduce carbon emissions and make the environment greener. When you use solar power to generate electricity, you are reducing your reliance on fossil fuels, which are responsible for air pollution causing global warming. This makes it a beneficial investment for both you and the environment.
Using solar energy in Pakistan can help you save money on your electricity bills while also contributing to a cleaner environment. With its low cost and renewable sources of power, it's an excellent choice for anyone looking to reduce their carbon footprint and lower their electricity bills in Pakistan.
Government Programs and Subsidies for Lower Electricity Bills
Did you know that the Pakistani government offers a variety of programs and subsidies to help lower your electricity bill? From discounts on your monthly bill to incentives for efficient energy use, these programs can help you reduce the cost of keeping your home or business powered up.
Discounts for Low-Income Households
The Pakistani government offers a monthly discount on electricity bills to households that qualify as low-income under the country's poverty line. This is great news for those who are struggling to make ends meet, because it can mean life-saving savings that can be used for other needs.
Energy Efficiency Incentives
The Pakistani government also offers incentives for businesses and households that opt for energy efficient appliances and systems, such as solar panels. The incentives are designed to encourage businesses and households to switch over to energy efficient options, reducing their monthly electricity bills – and their carbon footprint!
Other Programs
In addition to discounts and incentives, there are other programs available in Pakistan to reduce your electricity bill. These include subsidies on solar energy systems, tax breaks on energy-saving equipment, better financing options for homeowners looking to switch over from traditional grid power sources, and more.
No matter what type of program you opt into or what kind of equipment you choose for your home or business, one thing's certain: with these government programs in place, lowering your electricity bill in Pakistan is easier than ever before!
Terrif Structure of Electricity Per Unit in Pakistan 2023:
Structure of electricity cost is consisted of following parameters.
Electric Supply Company Charges

Cost of Units Consumed as per unit rate
Meter rent (not applicable to everyone)
Service rent (not applicable to everyone)
Fuel Price Adjustment
C Surcharge
R Surcharge
QTR Tarrif ADJ/DMC

Government Charges

Electricity Duty
TV Fee
General Sales Tax (GST)
How to Calculate Electricity Bill in Pakistan:
If your connection is domestic you can easily calculate your monthly bill if you know the number of consumed electricity units. Below I have given an example of bill calculation MEPCO company.
Example bill calculation – MEPCO:
Number of electricity units: 433
Electric Company Charges:
Cost of Electricity = 300×11 = 3645 +  55 = 2600.15 , Total Cost = 6245.15
C Surcharge = @ 3% of cost = 186.19
QTR Tarrif = @ 11.1% of cost = 697.13
Total MEPCO Charges = Cost+ F.C Surcharge+ QTR Tarrif = 47
Government Charges:
Electricity Duty = 104.13
TV Fee = 35
GST Tax = 1230
Total Government Charges = 1369
Total Bill
Per unit price against Fuel price adjustment = Rs 9.89 for June 2022 (=433*9.89 = 4,282)
Electric Company Charges + Government Charges + Fuel Price Adjustment = Rs. 12,780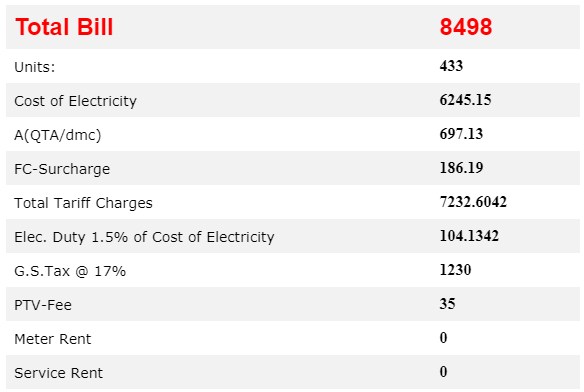 These rates are applicable to all below electric companies in Pakistan.
You can also download or check your duplicate electricity bill online from the respective company website.
Conclusion
It's clear that the electricity per unit price in Pakistan is far higher than the global average, but the good news is that there are steps you can take to reduce the amount you spend on electricity. From switching to LED lighting, to replacing old appliances with more efficient options, to investing in energy-saving technologies, there are a variety of strategies you can employ to lower your electricity bill.
By taking some of the actions outlined in this article, you should be able to lower your electricity bill and make a significant dent in your monthly energy costs. Not only can you save money, but you'll also be doing your part to help the environment through the reduction of energy consumption. So, what are you waiting for? Lower your electricity costs and start saving today!
Taking Action
Now that you know what options are available to you, it's time to take action. Start by researching the different government programs and incentives to see which ones you qualify for, and what kind of savings they can offer. Additionally, look into the different energy-saving equipment and technologies available on the market, and consider investing in them. Doing so now can help you save big in the long run, and give you peace of mind knowing you're doing your part for the environment.
Finally, don't forget to keep an eye on your energy bills. By regularly monitoring your bills, you can stay on top of your energy usage and make sure you're not being overcharged. Doing so can help you take full advantage of the government programs and incentives available to you, and ensure you're not paying more than necessary for your electricity.
By taking the time to research your options and make smart investments, you can save money on your electricity bills and help protect the environment. So, start taking action today, and reduce your electricity bill in no time!
City Wise Electricity price / Bijli Unit Rate Today:
| Punjab | Sindh | KPK | Balochistan | |
| --- | --- | --- | --- | --- |
| Attock | Badin | Abbottabad | Awaran | |
| Bahawalnagar | Daharki | Bannu | Barkhan | |
| Bahawalpur | Ghotki | Barikot | Kachhi | |
| Chakwal | Hyderabad | Batkhela | Chagai | |
| Chichawatni | Jacobabad | Charsadda | Chaman | |
| Chishtian | Karachi | Chitral | Dera Bugti | |
| DG Khan | Kashmore | Dera Ismail Khan | Duki (18) | |
| Faisalabad | Khairpur | Hangu | Gwadar | |
| Gujranwala | Larkana | Haripur | Harnai | |
| Gujrat | Mehar | Kabal | Hub | |
| Islamabad | Mehrabpur | Kohat | Jafarabad | |
| Jhang | Mirpur Khas | Landi Kotal | Jhal Magsi | |
| Khanewal | Moro | Mansehra | Kalat | |
| Khanpur | Nawabshah | Mardan | Kech | |
| Kot Addu | Pano Akil | Mingora | Kharan | |
| Lahore | Rohri | Nowshera | Kohlu | |
| Layyah | Sanghar | Peshawar | Khuzdar | |
| Liaqatpur | Shahdadkot | Shabqadar | Lasbela | |
| Lodhran | Shikarpur | Swabi | Loralai | |
| Mian Channu | Sukkur | | Mastung | |
| Multan | Tando Allahyar | | Musakhel | |
| Muzaffargarh | Tando Jam | | Nasirabad | |
| Okara | Thatta | | Nushki | |
| Rahim Yar Khan | | | Qila Abdullah | |
| Rajanpur | | | Qila Saifullah | |
| Rawalpindi | | | Panjgur | |
| Sadiqabad | | | Pishin | |
| Sahiwal | | | Quetta | |
| Sargodha | | | Sherani | |
| Shorkot | | | Sibi | |
| Sialkot | | | Sohbatpur | |
| Taunsa Sharif | | | Surab | |
| | | | Washuk | |
| | | | Zhob | |
| | | | Ziarat | |
| | | | | |
| | | | | |
FAQs Electricity Unit Cost in Pakistan:
Q1: What is the electricity 1 unit price in Pakistan?
Answer: 1 unit of electricity in Pakistan costs from PKR 02 to PKR 25 depending upon the slab of units consumed.
Q2: Why electricity is costly in Pakistan?
Answer: Electricity per unit cost is higher because of high fuel prices and the instability of USD against Pakistani Rupee.
Q3: Who is responsible to set or decide electricity prices in Pakistan?
Answer: NEPRA suggests the electricity rates to the Federal government which is the approving authority.
Check Also: LPG Gas Rate per KG
Check how much it costs for covid-19 test in Pakistan