Aluminum Windows Price in Pakistan 2023 Today Aluminum Rates
Before you buy check latest Aluminum windows price in Pakistan market 2023. After completion of building main structure, it comes the time to install aluminum windows. Aluminium window increases the beauty of the home design. The glass color of aluminum window shines making the look stunning.
There are dozens of aluminum companies in Pakistan. A variety of quality, design and color is available in the market.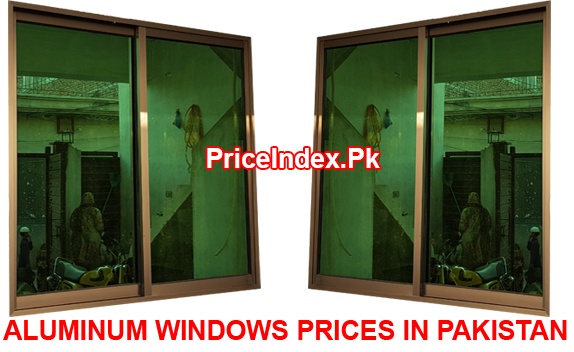 Aluminum Windows Price in Pakistan Today 29th November 2023
Price of Aluminum windows in Pakistan ranges from PKR 1,000 to 1,500 in Pakistan.
The cost of aluminum depends upon the size of doors, windows etc. Price also depends upon the thickness and quality of aluminum so the price can vary from below given details.
| | |
| --- | --- |
| Company | Price per Sq.Feet updated on November 29, 2023 |
| Standard Aluminum | Rs. 1,090-1,495 |
| Chawla Aluminium | Rs. 1,250-1,475 |
| Master Aluminum | Rs. 1,100-1,485 |
| GR Aluminium | Rs. 1,100-1,295 |
| Prime Aluminum | Rs. 1,220-1,398 |
Check Also:
Disclaimer Note: All Companies Prices are taken from market these can differ from the invoice price or company rates. We do not sell Aluminum we just provide prices information for users. So buy from market at your own. If you are from the respective company or you want us to change and update these prices please inform us through contact us page.
Check: Copper Rate in Pakistan per KG Today
These rates are per square feet of aluminum with glass and installation labour charges. Aluminum windows price October vary in cities Multan, Islamabad, Karachi, Faisalabad, Gujranwala, Lahore, DG Khan, Bahawalpur, Rahim Yar Khan, Sukkur, Peshawar, Sindh, Punjab, KPK and Balochistan provinces too.
Aluminum Windows Cost Calculation
Cost of aluminium windows can be calculated if you know the dimensions / size of windows. For example if you have window of 4 by 4 feet estimate cost will be as;
4×4 = 16 square feet. Multiply total sq feet to the price per square feet. i.e 16×600 = 9600. So cost of 4×4 feet aluminum window is Rs. 9600. Similarly multiply with number of total windows you will get the entire cost of all home windows.
Color and Design of Aluminum Windows
Aluminum window glass color comes in Gree, White and blue. Wooden Textured aluminum and with different designs is available in the market. You will find aluminum windows price accordingly with type and quality. Aluminum is not only used to make windows but also it is used to make doors. Windows are sliding type with a iron mesh slide too.